Here are some fantastic wine & beer recommendations for Thanksgiving and beyond! This particular selection has great versatility with all types of food pairing.
2016 Foris "Dry" Gewürztraminer: "Gewurz" means herb and spice. This wine is produced in Rouge Valley, Oregon. It's delicate in weight, bone dry with flavors of peach, white nectarine, and lychee nut.  Pairs well with; turkey, fish, and all vegetarian options.
2015 Big Fire Pinot Gris: Another gem from Oregon. This wine is produced in stainless steel and see no oak at all. It shows ample texture on the palate. Flavors burst of peach, Anjou pear, and honeydew. Pairs well with; turkey, pork, and gamier poultry.
2015 Primarius Pinot Noir: This Pinot Noir is a show stopper. It blindly drinks twice the price! Big Notes of bing cherries accented by subtle undertones of clove and cinnamon. Pairs well with; turkey, beef, fish, and mild cheeses.
2016 Cirelli Montepulciano D' Abruzzo "organic": This is a bright youthful wine that is medium bodied to full bodied. Fresh strawberries, ripe raspberries and refreshing acidity exude from this wine. Pairs well with; turkey, beef, pork, and all vegetarian options.
Boothbay  Craft Brewery Thirsty Botanist IPA: This is a true styled New England IPA. The hops lead the flavor from start to finish. Notes consist of grapefruit, peach, guava, and tangerine. The weight and texture gives the ale bread crust and honey accents. Pairs well with; Turkey!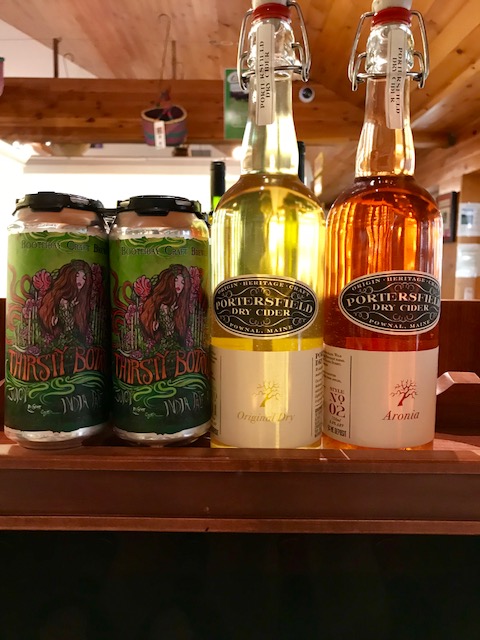 Portersfield "Dry" Ciders: a gluten-free libation from our neighbor in Pownal. Both ciders consist of American heirloom apples. These ciders are both dry. The original is the traditional flavor, and the Aronia is berried flavor that has elderberry and Aronia juice. Pairs well with; turkey and great conversation!